We are located in the rolling hills of Holmes County Ohio on a farm of 120 acres. We have a couple horses, some Angus cattle and our Bernese MT. Dog, which is the mother to our Mini Bernedoodle puppies.
We have been blessed with 4 children, 3 boys and 1 girl. As they range in age from 10-21, there is never a dull moment in our home! They are a great help with the puppies, however.
We have been raising numerous different kinds of puppies over the last 30 years, but really liked the friendliness and lovable Bernese MT Dog. Our female's name is Lacy and she is the mother of our Mini Bernedoodle family. Our goal is to raise the top Mini Bernedoodles available for adoption.
Please call or email us with any questions may have.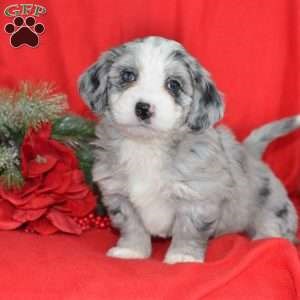 ---
More About Rolling Ridge Puppies
For 35 years, Leroy Raber of Millersburg, Ohio has been raising various breeds of dogs, including Bernese Mountain dogs, Akitas, a breed of Japanese mountain dogs, and British or English Mastiffs. In recent years, he and his family, including his wife, Joanna and their four children, have settled on raising Mini Bernedoodle puppies.
"I really enjoyed all of the breeds I've raised before, but the Akitas can be pretty high strung and the Mastiffs are so lazy," he added with a laugh. "The Bernese Mountain Dogs are great but kind of large for some folks. The Mini Bernedoodles are a cross between the Bernese Mountain Dogs (which can run up to 80 pounds) and a Mini Poodle (which averages about 15 pounds). Mixing the two produces a dog that matures at around 45 pounds, making it a nice medium-sized dog. They are very friendly, a true family dog. The poodle cross also makes for a non-shedding, hypo-allergenic breed which is great for indoor living.
"We've been doing this for five or six years now, providing dogs that are adorable, family-friendly pets; as gentle an animal as you will ever find. Bernedoodles are easy to train and easy to housebreak. We have one female on our farm and she has a couple litters each year. Ours is a very small operation, just a little hobby the whole family can enjoy."
He continued. "Our youngest son, Kyle (who is ten), helps out the most with the dogs, playing with them and helping to make sure they are well socialized."
Leroy works for MRV, a local siding retail center in Millersburg, while Joanna works as a homemaker, keeping up with a busy family of six.
"We make certain that all of our puppies are up-to-date on their vaccines, de-wormed and are health-checked by our veterinarian before they leave us. We offer a one-year genetic health guarantee on all of our puppies. I've been doing this for years and have never had a puppy come back with any problems."
Leroy has shipped Mini Bernedoodle puppies all across the country, from Alaska to California, Maryland to New Hampshire, Ohio, and more; all shipped from Chicago in the last few years. "There was 11 puppies in our last litter. We had two sisters drive up here together from Texas recently to take two of our puppies home with them," he added. He freely admits he has no idea how many other dogs he has raised for others, of various breeds, over the past few decades.
"We have really enjoyed doing this with our single Bernese female, and we are considering getting another one. But we are not looking to expand to any great extent. We certainly don't want to become any type of puppy mill."
Leroy concluded. "We love spending time with our puppies, playing with them, spending real family time. We can continue to do that with just one or two breeding females. We treat them the way we want to be treated. Meeting people from all over the country is something we have really enjoyed. We so appreciate people visiting our website and we would be happy to answer any questions. That's what this is really all about, people and puppies. God bless each and every one."
Article by Laura L. Valenti